The Ministry of Lands, Housing and Survey through its Tribal Land Recording Unit has completed yet another successful Customary Land Recording Awareness Program in Longu Village, East Guadalcanal on the 10th – 12th November 2022.
The land recording awareness program was officially opened by special guest of honour the Honourable Minister of Lands, Housing & Survey Mr. Ishmael Avui. Speaking at the opening ceremony, the Minister urged landowners that "land is our mother." He also stressed that population is continually increasing every year but not the land and hence land recording is a very important means to achieve land security, peace and sustainability for future generations.
The awareness was conducted through presentation and discussions from the Director, Land Reform Mrs. Hellen Ohukeni and National Recorder, Ms. Mary Tegavota. Participants who attended the workshop included members from five different landholding groups living in and around the Longu and Valasi community, including chiefs, elders, youths and women.
The purpose of the awareness program was to carry out general awareness on the Customary Land Records Act and explain the customary land recording process. Participants also asked many questions and shared their understanding of customary land ownership.
Land Recording process for Longu and Valasi is scheduled to commence early 2023.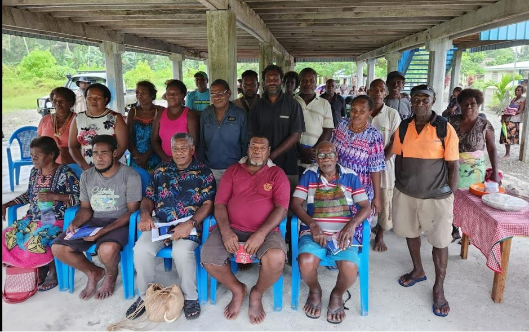 ///ENDS